Workshop on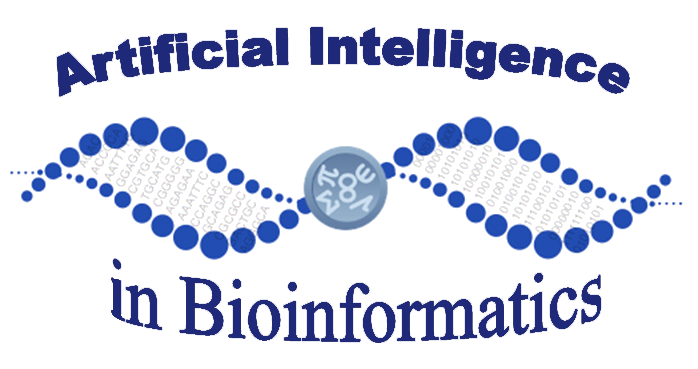 Varna, Bulgaria, September 11th, 2018
in conjunction with
the 18th International Conference on Artificial Intelligence: Methodology,
Systems, Applications AIMSA 2018
Varna, Bulgaria, September 12th - 14th, 2018
OBJECTIVES
Artificial Intelligence plays an increasingly important role in Bioinformatics enabling discoveries in metagenomics, regulatory genomics, population genomics and diseases, next generation sequencing data processing, etc. Some of the grand challenges in Bioinformatics include protein structure prediction, homology search, gene finding and gene mapping, gene expression data analysis, drug design in pharmaceutical industry, etc. and the intensive application of Artificial Intelligence approaches is expected to address them. From the other side, Bioinformatics provides opportunities for developing novel Artificial Intelligence methods.
The purpose of the workshop is to bring together active scholars and practitioners in the frontier of Artificial Intelligence and Bioinformatics and to give them an opportunity to present and discuss their research and to share their knowledge and innovative ideas.
TOPICS
The workshop welcomes submissions of original, high quality papers in all areas of mutual influence of Artificial Intelligence and Bioinformatics, including (but not limited to):
Sequencing data analysis with AI techniques
Data mining for variant and error calling
AI methods in genome annotation
AI approaches in integration of sequencing, clinical and experimental data
AI methods in gene expression analysis
AI methods for protein structure prediction and drug design
Deep learning for precision medicine purposes
Information integration and knowledge discovery in bio-medical studies
Cluster and classification analysis applications to bio and medical data
Intelligent information systems in healthcare
IMPORTANT DATES
| | |
| --- | --- |
| Submission deadline: | May 20, 2018 |
| Notification of acceptance: | June 17, 2018 |
| Deadline for camera-ready: | July 1, 2018 |
| Workshop: | September 11, 2018 |
WORKSHOP LANGUAGE
The official language of the workshop is English.
SUBMISSION DETAILS
Papers have to be submitted electronically (in PDF format) to the address: .
Papers should be written in English and should be sent in Microsoft Word format. Authors are requested to follow the template Preparation of Papers for the Journal "Cybernetics and Information Technologies". The length of submissions is limited to 10 pages.
Submissions should describe original research. Papers accepted for presentation at the workshop cannot be presented or have been presented at another meeting with publicly available published proceedings. Papers that are being submitted to other conferences or workshops must indicate this on the title page, as must papers that contain significant overlap with previously published work.
PROCEEDINGS
The accepted papers will be published in a special issue of the journal "Cybernetics and Information Technologies" (SJR (2016) = 0.203) before the workshop.
LOCATION
Varna, Bulgaria - Golden Sands resort (24 km from Varna airport)
ORGANISERS
Institute of Information and Communication Technologies, Bulgarian Academy of Sciences
Faculty of Mathematics and Informatics, Sofia University "St. Kliment Ohridski"
PROGRAM COMMITTEE CHAIR
Maria Nisheva
Faculty of Mathematics and Informatics
Sofia University "St. Kliment Ohridski"
Email:
Phone: +359 879 243 434

PROGRAM COMMITTEE
| | |
| --- | --- |
| Maria Nisheva (Chair) | Sofia University |
| Atanas Atanassov | AgroBioInstitute, Sofia |
| Dean Palejev | Institute of Mathematics and Informatics - BAS |
| Dimitar Vassilev | Sofia University |
| Gennady Agre | Institute of Information and Communication Technologies - BAS |
| Maciej Kandula | BOKU University, Vienna |
| Michal Okoniewski | ETH Zurich |
| Pawel Labaj | MCB Jagelonian University, Krakow |
| Stefka Fidanova | Institute of Information and Communication Technologies - BAS |
| Tomasz Gambin | Polytechnika Warszawska |