PRACTICAL INFORMATION
VARNA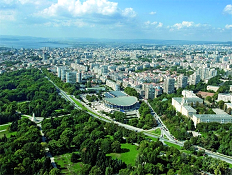 This is Bulgaria's third largest city, a large port, and an important cultural, trade and industrial centre. Founded in the 6th century BC, the city boasts lots of remains from Roman and Byzantine times. Varna is rightly known as the "capital city" of the Bulgarian Black Sea coast.
GETTING THERE & AWAY
By air
Varna's international airport (www.varna-airport.bg) is an increasingly busy place with scheduled and charter flights from all over Europe, as well as regular flights to and from Sofia. Detailed schedule of Sofia-Varna-Sofia flights can be obtained from CIM upon request and also a reservation could be made.
By bus
Varna has two bus stations – the central bus station (158 Vladislav Varenchik Blvd.) is about 2 km northwest of the city centre. Long-distance and international services are operated by private buses. Tickets for these can be bought at agencies in town, as well as at the bus station, but all departures are from the central bus station.

The second bus station in Varna is the Mladost Station. From here, more frequent minibuses go to smaller places along the Black Sea coast.

CIM could make reservations for the regular bus lines between Sofia and Varna if required.

The most useful busses for visitors which connect Varna and Golden Sands Resort are 409 and 109 (connects the train station with Golden Sands Resort, passing through the city centre and Sveti Konstantin Resort en route).
By train
Bulgaria is linked to almost all capitals and big cities in Europe by train
By car
Varna is accessible from the main border checkpoints via national and international roads.
Taxis
Like elsewhere along the coast, some taxi drivers are prone to ripping off foreign visitors at the bus and train stations, so check the tariffs before getting in or, better still, pick up a cab on the streets away from these places, which are more likely to use their meters. Taxis have an official rates although many drivers will quote an inflated fare in advance – especially if you're travelling to the northern beach resorts
ORGANIZED TRANSFERS
Participants can order individual transfers from Varna airport (bus/railway station) to the hotel or v.v. to CIM Ltd. The price per person in one direction is 30 Euro.
On arrival at Varna Airport the delegates will be welcomed in the Arrival Terminal by a member of the organizing team with a sign with the name of the conference. The organizing team will take care of all transfer arrangements from the airport to the hotel.
On arrival and during the first day of the event, delegates will be asked to confirm their departure times. Transportation will be organized from the hotel to the airport for those delegates who have booked and paid the transfer individually
PASSPORTS & VISAS
Only valid passports are required from all the EU countries. Delegates from countries where visa is normally required for entry to Bulgaria are reminded that they will need to obtain one from the appropriate Bulgarian Embassy/Consul. Please check at the nearest Bulgarian Embassy all the documents required for your country or visit: http://www.mfa.bg/en/pages/109/index.html.
MONEY
The national currency is the Bulgarian Lev. Bank notes of the following denominations are in circulation: 2, 5, 10, 20, 50, 100 Levs. 1 Euro = 1,95583 BGN.
There are numerous foreign exchange offices and ATMs around the city centre and in the Golden Sands Resort. It's always prudent to carry a little foreign cash, however, in case you can't find an ATM or bank office nearby. You can always change cash at the hotel, though the commission will be high.
Make sure you have enough of the national currency when you plan to visit local markets and shops. You can often pay by Euros and U.S. dollars, but they are usually accepted at very disadvantageous rates.
SHOPPING
Items made of leather and fur are very popular on the local markets. Here you can find clothing by local manufacturers, and by famous Italian firms.
Items made of silver, as well as traditional clothes and handmade tableware are the most popular souvenirs that travellers get in the memory of trip. If various handicrafts and souvenirs are best to buy in a market, jewellery should be purchased in specialized shops only.
Most shops open at 9:00 and accept visitors till 19:00. Large shopping centres may work until 21:00, while supermarkets and food stores often work around the clock.
TIPPING
When a gratuity is not included in your bill, which is usually the case, 10% is customary. If service is outstanding, you could go as high as 15%. With taxi drivers, you usually just round up the sum if you have been happy with the ride or for the sake of convenience.
CLIMATE
Moderate climate: mild spring and autumn, hot summer, cold snowy winters. The weather at the beginning of September is warm and sunny. Daily temperatures range from 23o to 28o C.
TIME
Summer time: GMT + 3 hrs. (April through September)
ELECTRICITY
220 Volts, 50 Hz, 2 pins plug-in system
Copyright &copy 2003-2023 Institute of Information and Communication Technologies. All rights reserved.
Last update: 27.09.2014 webmaster: